Jewish Community in Concert: Live Music at Down Yonder Farm
Join CJJ for a very special night of music and community at Down Yonder Farm on Wednesday, May 11, featuring Batya Levine, Aly Halpert, & Arielle Korman! 
---
---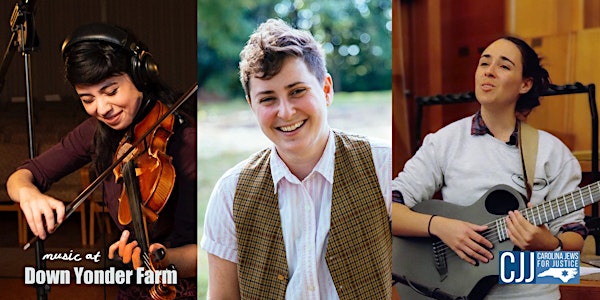 CJJ is thrilled to host these three queer Jewish leaders & musicians whose songs fuel community, movement, & liberation. Offering original music by all three musicians and featuring Aly and Batya's debut albums Loosen and Karov, this participatory concert is a chance to be together in healing, spirit, and celebration of our collective resilience. Come sing along to three-part harmonies, ground yourself in nigunim (wordless melodies), and dream about what's possible while listening to Arielle's soaring violin playing. However you arrive, Batya, Aly, & Arielle invite you into community, closeness, and song.
Additionally, we're equally excited that Rabbi Sandra Lawson will be opening for Batya, Aly, & Arielle! And addition to being a gifted musician, Rabbi Sandra is one of the first African American, queer, female rabbis, and currently serves as the Director of Racial Diversity, Equity and Inclusion at Reconstructing Judaism. She previously served as the Associate Chaplain for Jewish Life and the Senior Jewish Educator at Hillel at Elon University in North Carolina, where she still lives with her wife Susan.
And since we love democracy as much as we love good music, we'll also be taking action together to get out the vote in advance of the primary election on May 17! 
Homemade tamales — both vegetarian and non-vegetarian — will be available for purchase, or we invite you to bring a picnic dinner for yourself. There will also be a (cash-only) bake sale featuring a variety of yummy treats!
*This tour is taking place during the omer, a period of tracking time between Passover and Shavuot. During this time, some refrain from engaging with instrumental music. The trio will be talking about and honoring this tradition by doing a portion of the concert without accompaniment. 
WHEN
May 11, 2022 at 6:30pm - 8:30pm
17 RSVPS